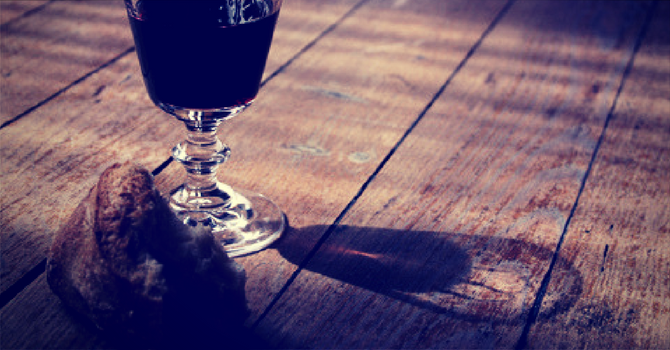 The Table of the Lord
This coming Sunday we have been given the honour of celebrating the Lord's Supper. We'll take the cup and the bread as the Gospel made visible - sitting at Christ's seat at God's family table because His blood was spilled and body broken for our sins instead of ours. We'll also be drinking deeply from God's Word - the Voice of our Shepherd - from John 17 - a passage often called Jesus' High Priestly Prayer. Christ was arrested shortly after this. In this passage we get to listen in on Jesus' prayer for us who believe the Holy Spirit-inspired testimony of the eyewitnesses. Part of this prayer is that it would be known that those who trust in Christ are loved by God the Father with the love that the Father has for Jesus. What amazing love. Come to hear these beautiful truths proclaimed, announced, heralded, spoken over the church. Let's feast our souls on the Gospel and respond as God's children - a title purchased by Christ's blood for all who trust in Jesus and renounce the life of being an enemy of God.
Care Fund Offering
It is our tradition as we delight in God's generosity through Christ by celebrating Lord's Supper, that we take up another offering that is distributed exclusively for the needs of people in the church or community of Transcona who are experiencing extra difficulty - things like paying rent, good professional counselling, grocery gift certificates, etc. If you'd like to give toward that, we would encourage you to do so.
Delighting in the Gospel includes Defending the Gospel
We love you guys, and we're concerned when false teachers spread lies about Jesus in an attempt to subtly transform our perceptions of Jesus in ways that are in contrast to what Scripture and Jesus revealed. We're not a church that believes that enjoying art from people who aren't believers is a bad thing. It becomes a little trickier though when people who confess to be Christians use art to communicate something about Jesus that is in opposition to Scripture (which is the Holy Spirit's testimony of Jesus). It becomes increasingly more dangerous when such a work is endorsed by Christian leaders. This is the case with the book and movie based on the book, The Shack. Since we want to be faithful to God's call to love and protect the church from false teaching about her Bridegroom, we were compelled to do some research and give some guidance from scripture regarding the god presented in the book. Find that online here.
The more two people describe a person, sometimes it becomes clearer and clearer they are describing two different people.
The authors of the book reject a God who would save His people by punishing Jesus instead of them - which is the God that our hope is firmly placed in. As the Word of God cautions, so do we: fight the natural desire that we all have to rest in someone other than God - or to rest in things about God that are not true. This is not intended to be a silly forbidding of reading or watching (we're not interested in that), rather a caution: know that the desire you may feel inside you to take comfort in the god presented will be a desire to rest in an entirely other god than Jesus. It is not wise to watch the movie or read the book in order to understand God better. If you have any concerns, or questions, I'd be glad to chat.
Delighting in Christ together,
Derek