Tuesday, February 19, 2019 Next Date
10:00 am - 12:00 pm
Park City Gospel Church, Totspot & Nursery Room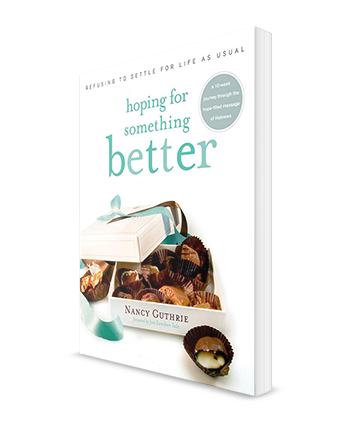 Moms bring your little ones! Space for them to play while we study will be provided.
Studying Job is a thrilling but daunting undertaking. Job's story addresses some of the most profound questions of human experiences and an all-powerful God. Perhaps the most important lesson of the book of Job is that there are no simplistic answers to these questions - that God, while knowable, is also mysterious.
Our next study (starting February 5th) will be "Hoping For Something Better, a study of Hebrews written by Nancy Guthrie. Who wants to merely go through the motions of religion? We long for something authentic--something worth opening our hearts to, filling our minds with, and giving our lives for. We hope for something better than the "Churchianity" of our parents and the vague spirituality of our neighbours, something better than guilt-induced, holier-than-thou morality, better than here-and-now, health-and-wealth promises. In her thought-provoking and authentic style, Nancy Guthrie shows that Jesus himself offers the something better we've been looking for, applying the truths of Hebrews to real-life issues such as guilt, shame, disappointment, hardship, unhealthy obsessions, personal ambition, and fear of death.
Contact Linette Stanton to sign up & get a book or for further details.
Linette Stanton, Facilitator